New York Red Bulls Academy Announces Affiliate Program Partnership With BWP
Red Bull Release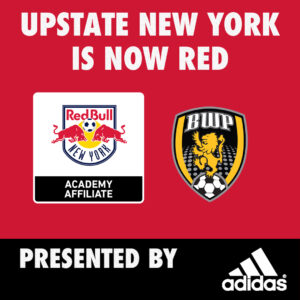 HARRISON, N.J. – The New York Red Bulls have partnered with Black Watch Premier and three other clubs in conjunction with the New York Red Bulls Academy Affiliate Program which is part of the MLS Youth Affiliate Network.
 The most talented players within the Academy Affiliate Program participate in co-partnered elite player development and talent identification programs operated by both the Affiliate club and the New York Red Bulls Academy.
Black Watch Premier will create BWP Football Academy for elite player development, this program will work directly with the New York Red Bulls Academy.
"We are pleased to be able to announce Black Watch Premier (BWP) as one of the founding members of our New York Red Bulls Academy Affiliate Program. We look forward to working with Steve Freeman, his staff and the organization as a whole to not only provide a professional pathway for their current top prospects but to also work closely together on continued coach education and shared best practices," said Sean McCafferty, the New York Red Bulls Academy Director.
"Black Watch Premier is extremely proud to be working with New York Red Bulls," said Steve Freeman, the President, and CEO at Black Watch Premier. "They are one of the premier MLS teams that take pride in Educating, Developing, and Promoting home grown Academy talent. Together, we will elevate the skills and knowledge of our Long Island soccer players so they too have a chance to be showcased."
BWP Football Academy will offer coaching education and will specify in player development which will include: payer exchange and dual carding opportunities for selected leagues, tournaments and events, seasonal meetings regarding Affiliate top talent depth charts, supplementary training opportunities at Red Bulls Training Facility for Affiliate top talents, and tailored seasonal schedule to allow for additional games versus RBNYA.
 "One of our U17 Academy high potential players Nicholas Rabiu is a product of BWP. We look forward to working with Steve Freeman and his staff to ensure they continue to identify, recruit, and develop more players of Nicholas Rabiu's level. We want to increase the number of top talents coming into the club and more importantly the depth in talent at those key development age groups. This will be the foundation for long term success," added McCafferty.
For more information on the New York Red Bulls Academy Affiliate Program please visit:  https://www.newyorkredbulls.com/academy/affiliates