BWP – Announces Three-Year Partnership with Veo
Albany, N.Y. –  Sporting Director Steve Freeman announced the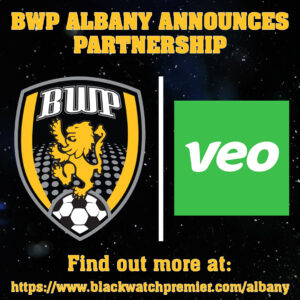 addition of Graciano Brito to the 2020-21 BWP technical staff.
Brito arrives at Black Watch Premier with a plethora of coaching experience at the Division I level. Earlier this year, Brito was selected to lead Siena's men's soccer team, becoming its eighth head coach in program history. His latest stint was with NCAA Division I program Quinnipiac where he served as assistant coach of the men's soccer team for eight seasons.
During his tenure with the Bobcats, the two-time All American helped his alma matter compile a 52-16-12 record from 2012-2019. With the help of Brito, the Bobcats won four conference regular-season championship, a MAAC Tournament championship, and earned an NCAA Tournament appearance.
"Graciano comes to us highly recommended and we have witnessed his work first-hand in the youth landscape," stated Sporting Director Steve Freeman. "Graciano will jump in and train as well as get to know our older age groups in 2020-21. We recognize and support his primary responsibility to get the Siena Saints men's soccer team through an unprecedented season during a pandemic. I could not be more impressed on how he (Brito) has handled himself throughout this process and I am excited for our players to interact with him," added Freeman.
Brito will be involved with the training of teams that fall in the Boys 2002 – 2006.
A two-time Northeast Conference Player of the Year for the Bobcats, Brito sits atop of the QU record board in all-time career points (92) and goals (40). The three-year captain led the nation in both goals per game (0.95) and points per game (2.05) while claiming Quinnipiac's single-season DI records for both points (39) and goals (18) during his senior season in 2008. ESPN SoccerNet's Top-10 ranking listed the Sao Nicolau, Cape Verde native as the sixth-best senior forward in the nation.
After earning his Bachelor's Degree in international business, he was invited to the 2009 Major League Soccer Combine and later signed professionally with Operario dos Acores in the Portuguese Second Division. Brito became the first player to sign with the expansion FC New York of the USL Professional League in 2011, before joining fellow USL PRO squad the Rochester Rhinos in 2012.