BWP Adds Dr. Cristina Fink as Director of Mental Performance
Albany, N.Y. – Black Watch Premier Albany announced today the addition of Dr. Cristina Fink as the club's Director of Mental Performance.
Fink brings over 25 years of experience working with Olympians and world champions, as well as national and professional soccer teams.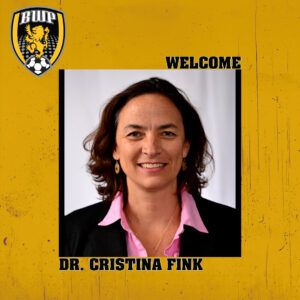 The former Olympian served as the sports psychologist for several teams in the 2000, 2004, and 2008 Olympic Games with various sports such as soccer, synchronized swimming, track and field, modern pentathlon, swimming, diving, archery, and taekwondo.
"Our players' overall well-being, as well as the mental component in connection to performance, are priorities for our club. It is a gift to have someone with the degree of experience and expertise in this field working with our players, our staff and families," stated BWP Albany – MLS Next Academy Director Steve Freeman.
Previously, Fink was on staff with Major League Soccer working with the Philadelphia Union first team. Dr. Fink will work closely with BWP's staff and players to optimize performance from a holistic perspective.
Fink participated in the Seoul 1988 and Barcelona 1992 Olympics for Mexico and held that nation's high jump record of 6' 4" for 22 years.
"We recognize the importance of mental health and it is something that has to be addressed in order to maximize potential and enjoyment of athletes. BWP will continue to develop and create ways for our players to make up some of the ground as well as advance. Increasing training frequency to four times a week, adding a weekly sports performance session and now adding another world-class expert to our technical leadership and delivery will have profound impacts on the long-term development of our players and coaches," added Freeman.
Fink earned her B.S. in Psychology and a B.A. in Family and Consumer Resources from the University of Arizona, Tucson, and her Master's degree and a Ph.D. in Performance Psychology from the Universidad Nacional de Educación a Distancia (UNED) in Madrid, Spain. She received an Honorary Doctorate from Universidad SIATI in Mexico