Sorriento Elevated to Grassroots Director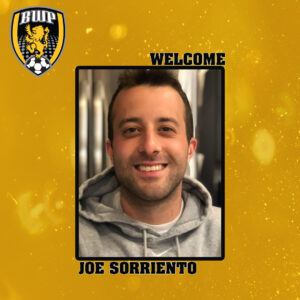 Albany, N.Y. – Black Watch Premier President Steve Freeman announced Friday the elevation of Joe Sorriento, who has spent the last decade on staff as a technical coach, to the grassroots director.
"Joe Sorriento has been with the club since he was a player, his experience as a coach within our grassroots [program] over the last decade and his work as an elementary school teacher brought him up to this leadership role," stated Freeman. "The relentless work of the past 25 years is starting bear fruit on our coaching tree. It is a privilege to be able to promote within. Thank you to Zach Votra who stepped in for Danilo Markovic in December. We wish him the very best as he continues his professional pathway at St. Lawrence University."
"Our grassroots program is dedicated to helping kids become the best soccer players they can be. We want our kids to have a high soccer IQ and be brave enough to take chances and learn from their mistakes," said Sorriento. "My career as an educator at the elementary level goes hand in hand with coaching youth soccer. I've been around the game of soccer my whole life including playing for Black Watch when I was a youth athlete and also playing at the collegiate level."
Sorriento will help cultivate a program that makes kids excited to get better each day and will ensure that athletes have strong fundamentals that will help them achieve success as they get older. Additionally, he set out a goal to help our athletes understand the principles of the game (how to defend, attack, and transition effectivley).