Tim Bradbury joins Black Watch Premier Long Island Training Staff
Bay Shore, N.Y. – Tim Bradbury joins Black Watch Premier Long Island to head its boys U14 and U12 programs.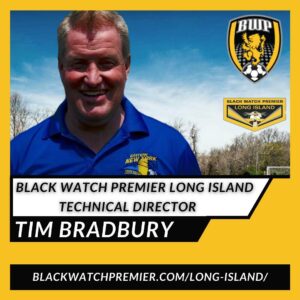 Bradbury has a wide range of coaching experience spanning across more than 30 years. The Stoke-On Trent, England native left his hometown in 1989 after he was offered a full-time education with Long Island Soccer Camp, which became the cornerstone of his soccer education. Shortly after, Bradbury was selected to lead the York College men's soccer squad where he was a two-time CUNY Coach of the Year.
After four successful years at York, Bradbury went on to become the technical director of the Long Island Junior Soccer League (LIJSL) Select Program in 1996, head coach of the Eastern New York ODP Girls Program from 2003 to '05, head coach of the Long Island Rough Riders Super Y-League teams from 2003 to 2006 and was a member of the US Soccer Grass Roots Design Group from 2014 to '16.
The London University graduate captained the British Colleges soccer team for four years and played semi-professional soccer while pursuing a master's degree in sociology and education. Bradbury, a center midfielder, played for various youth clubs such as Trentham Romans, Staffordshire County Team, North of England Under-18, Borough Road, and played semi-pro soccer with Hounslow FC.
Bradbury, who now resides in Smithtown, NY, is a USSF instructor who holds a bevy of licenses, in addition to a Grassroots Instructor License, a USSF-A License, a United Coaches Master Coach Diploma, and a US Youth National Coaching License. Bradbury, who has more than 30 years of experience, has trained more than 60 players who have made ODP or Regional Youth teams, including US Women's National Team player Crystal Dunn.
Follow Tim Bradbury on Twitter today: @TimBDOCI